I have asked myself several times what the fuss is about what our lovely First Lady, Michelle Obama is wearing and I still dont get it!
Ok, no one is talking about her underwears as well? 
is it Victoria Secret or made by an unknown designer?
Why are they picking on this Harvard graduate who is Beauty, Brain and Brawn! Rather, it is the size and color of her bow that the press is going gaga over!
She wore a Talbot Dress on ESSENCE cover is also a headline! So what?
We are in recession and she WALKING THE WALK, and NOT JUST TALKING THE TALk! Because even before she became a First lady, she was very rich already. So, she can very well afford all the bling bling, big designer names!
She is setting a good example that people should be economical to survive this economic turbulence. If a First lady can be 'inexpensively' glamorous', what excuse does the clerk that earns $200) a month have for charging a $1000 dress to her credit card? huh?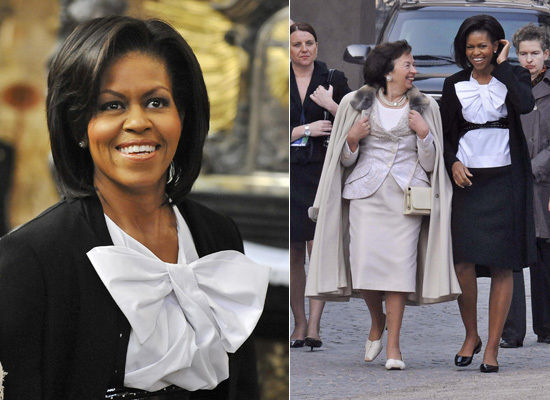 I particularly think the bow on her dress is unique and cute, why people are frotting at the mouth because of this smells simply of 'hatorade'! Simple.
Can people get over what colors her shows are or how big her bows are etc? Why are people so critical of everything she wears? if Beyonce or Sarah Jessica Parker wore same, would she be subjected to all these scrutiny? I am a fashion designer/Fashion consultant and I can authoritatively say that Michelle Obama dresses well. Like Coco Chanel said, Fashion recycles, nothing is new in fashion....that is why we have clothes we call 'vintage', 'classic' etc, and all fashion is a cut off from something in the past. Please, folks, give this lady a break! There is more to her than what she wears daily!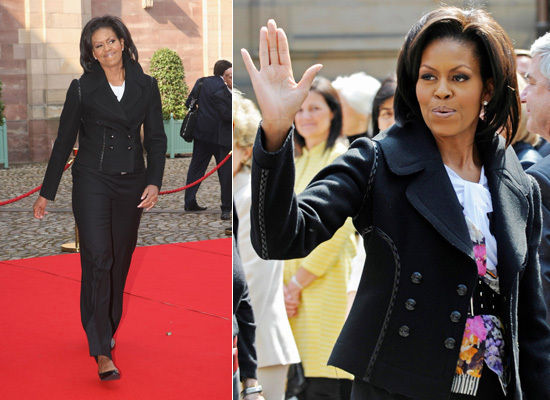 Why have they reduced our elegant First lady to another contestant on American Next Top Model -World Stage?
And why is Oscar dela Renta making all the fuss? Who made him god of Fashion? \hasnt his label made enough money?
So, he doesnt want the Jason Wus and the ESTELLA Coutures to have a chance of making it too? PLEASE!!!
Anyway, anyone who knows the contact/link to send a dress to Elegant First lady Michelle Obama, should please call me: 1 301 915 5927. Or email me: estella@estellacouture.com ...I will like to dress Mrs Obama. I am from Africa, and so far, she has not worn an African Designer's wear....checl my collection out, I dress for figures like hers and I WILL give them something to talk about when Mrs Obama steps out in an ESTELLA Couture design. Yay.
All already faamous designer should please massage their egos and give us a chance. besides, the sky is big enough for all birds to fly without clipping their wings!
Besides, they still got Hollywood celebrities wearing them on the Red Carpets!
Yes, I have a dress for Mrs Michelle Obama. ;)